Free Shipping on Continental U.S. Orders over $45
Back to the Full Recipe Page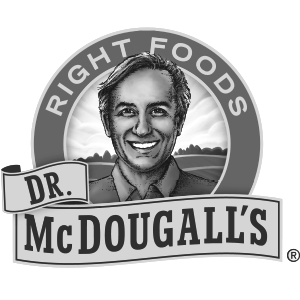 Protein-Packed Vegetarian Stuffed Peppers
Description
If you're a staunch bell-pepper-hater, don't click away just yet! In an effort to defend one of Earth's finest offerings, our chef's racked their brains for the best (read: easiest) way to make stuffed bell peppers, and they did not disappoint. Here's how to make our Protein-Packed Vegetarian Stuffed Peppers:
Ingredients
Dr. McDougall's Black Bean & Lime Soup Cup

2 fresh bell peppers (any color)

¼ cup fresh guacamole

¼ cup fresh salsa

juice of 1 lime, quartered

2 tsp chopped cilantro
This Recipe Calls For Right Foods Black Bean & Lime Gluten Free Soup Big Cup, Which you can Purchase on
https://rightfoods.com
Instructions
Prepare the Black Bean & Lime Soup with slightly less water than what is used on the cooking instructions. While the soup is heating up, wash and halve your bell peppers.

When the soup is finished, carefully divide it evenly into the bell pepper halves.

Top with the salsa, guacamole and cilantro, and enjoy!