15 Oil-Free Vegan Recipes That are Totally Crave-Worthy
It can be so hard to find recipes that show you how to make delicious oil-free food. Whether you're vegan, you eat a low-fat or oil-free diet, or you just like good nutritious food, these oil-free vegan recipes will delight your taste buds and fuel your body.
Lots of foods contain hidden oils, from the snacks in your cabinet to the food you order at a restaurant. Oil is high in calories, so these hidden oils in your food add up to a higher caloric amount than you might think.
If you're on a low-fat diet, want to avoid the high calorie and saturated fat content, or just want to consume more whole foods, you may choose to eliminate or reduce oils.
At Dr. McDougall's Right Foods, all of our products are both vegan and oil-free. Yep, you heard that right: no animal products, no oil. Plus, we make a wide variety of organic, gluten-free, and lower-sodium options to fuel your needs. 
We love to eat our ready-to-serve cups as a quick snack, but we also like to make full-on dishes using our noodles and soups as an easy base. Here are 15 recipes you'll be craving all week long made entirely without the use of oil. 
So easy and so delicious! We made a savory bowl of our vegan sesame chicken rice noodles and pumped it up with sautéed tofu, chopped garlic, radishes, and bean sprouts. We're using vegetable broth to cook the tofu and let it soak up more flavor.
Start by preparing your sesame chicken noodle cup according to the package instructions. Then, heat vegetable broth and add tofu and garlic, cooking until broth is absorbed. Add in noodles to absorb the flavor, then top with sliced radish, bean sprouts, and cilantro. Enjoy! 
Pump up your day with this kickin' take on a burrito bowl. We used our black bean and lime soup as a killer filler and paired it with some of our favorite savory veggies and topped it with a creamy coconut avocado mix.
Start by preparing the black bean and lime soup cup according to the package. Then, to make the avocado topping, mash an avocado with coconut milk until you get your desired texture. Set aside. Chop your veggies and assemble your bowl: black bean mixture, veggies, avocado mash, cilantro, and a sprinkle of salt and pepper.
This dish tastes even better than it looks. While takeout noodles can be cooked in lots of oil, Francesca Bonadonna of Plantifully Based created this nourishing vegan Pad Thai using our Pad Thai cup, packed to the brim with veggies and tasty Thai flavors.
Prepare the Pad Thai according to package instructions. Saute the peppers, red cabbage, carrots, and edamame in water or broth until slightly softened but still a little crunchy. Add the noodles and chopped green onions to the pan. Combine everything together and top with more green onion, peanuts, sesame seeds, cilantro, and a hearty squeeze of lime.
Spanish rice, beans, veggies, and creamy avocado create the perfect balance of flavors in this vegan taco dish. This recipe brings a filling, flavorful, and healthy meal to your table.
We partnered with Jasmine Briones of Sweet Simple Vegan to bring you this tasty recipe.
We're sauteeing veggies in water instead of oil, steaming kale, and heating the tortillas directly over a flame. No oil necessary!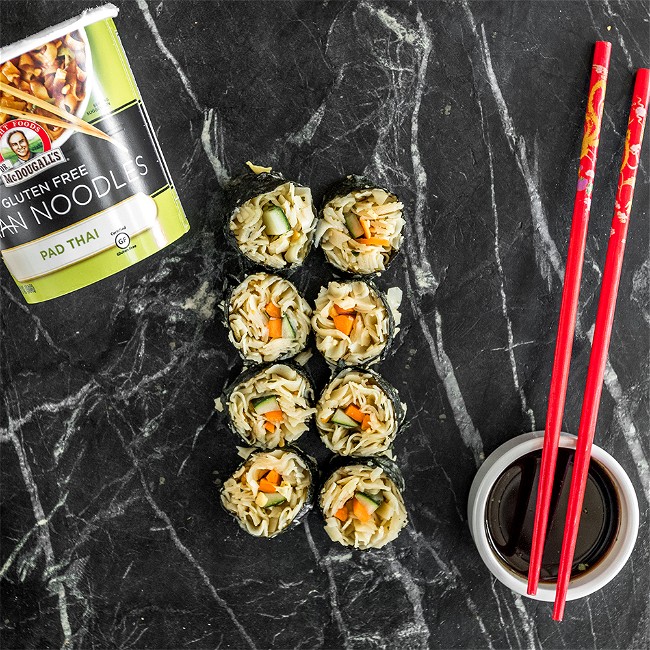 You only need 5 ingredients for this recipe: Right Foods Pad Thai Asian Noodle Cup, nori seaweed, carrot, cucumber, and soy sauce for dipping. We partnered with Chris Petrellese to bring you this recipe. Check out his stuff here.
Start by cooking the noodle cup and separating the noodles and liquid, letting the noodles cool in the fridge while you prepare the rest of the ingredients. Cut carrot and cucumber into matchsticks.
Now you're ready to roll! Lay out a piece of seaweed and layer noodles, carrot, and cucumber. Roll, seal with water, and cut into 6-8 pieces. Dip in a mixture of Pad Thai broth and soy sauce. 
This split pea toast is a tasty way to get your veggies in. Start by preparing Right Foods Split Pea Soup by adding the flavor packet and slowly adding water until thick and almost paste-like. 
In a bowl, mash the peas, edamame, garlic powder, and onion powder until chunky. Combine with split pea soup and lime juice, seasoning with salt and pepper. To assemble the toast, spread the split pea mixture generously on the toast, topping with arugula, parsley, black pepper, and sea salt.
We partnered with Calla Ramont of Calla's Clean Eats to bring you this tasty recipe. Check out her Instagram here.
This recipe is almost too easy. Simply top our ready-to-serve tortilla soup with plain coconut yogurt, avocado, and crushed tortilla chips. Lunch is ready in minutes!
Pasta e fagioli is a traditional Italian stew made with pasta and beans. We pumped up our ready-to-serve Garden Vegetable soup with elbow macaroni, black beans, and tomato paste to make this epic twist on pasta e fagioli!
We partnered with Francesca Bonadonna of Plantifully Based to bring you this recipe. 
A good vegan ramen isn't complete without tasty veggies and protein. We're using tofu, shittake mushrooms, bok choy, and red cabbage in this one. The vegetables are cooked in broth, giving them some extra flavor.
This recipe takes only 10 minutes thanks to a shortcut: our Miso Ramen Noodle Soup. It comes with tasty noodles and a flavor packet that makes a delicious miso broth. 
Nothing beats flavor and simplicity like a quick dip! We transformed our Spring Onion soup into this mouth-watering dip that you'll crave - and it only takes 10 minutes.
Serve on a veggie platter with your favorite fresh vegetables and crackers, add to a bowl or salad for extra flavor, or simply eat as a snack with anything dippable.
Looking to get creative with your Pad Thai noodle cup? This bowl combines noodles, tofu, and veggies with a delicious ginger miso dressing.
We partnered with Jasmine Briones of Sweet Simple Vegan to bring you this tasty recipe made with spinach, veggies, marinated tofu, and Pad Thai noodles. For the perfect finishing touches, generously drizzle dressing over top and add hemp hearts and sesame seeds. 
We turned our Spicy Kung Pao noodles into the ultimate summer feast with a twist. We incorporate a savory sauce with some fresh spinach, celery, mushroom and lime.
Our noodles are steamed instead of fried, so no need to worry about excess oil in our noodle cups. You can cook the veggies in water until browned: we have a step-be-step tutorial on perfect browned vegetables without oil here. LINK
This vegan bolognese is just as comforting as the traditional version. Our Lentil Bolognese is made with wholesome ingredients like carrots, onions, thyme, and basil.
Combine all the ingredients in a large saucepan and cook on medium heat. Allow the sauce to simmer until it's fragrant, which should take about 10-15 minutes. Then, turn off the heat and add your pasta noodles. Sprinkle chopped parsley over the pasta, and it's ready to eat!
Marianna Moore of @mariannas_pantry whipped up our miso ramen and added savory toppings like avocado and tahini drizzle to bring all the flavor to this nostalgic dish. This dish is packed with the fats you need without any excess cooking oil.
This recipe requires basically no cooking. Just prepare a cup of Dr. McDougall's Miso Ramen Soup by taking out the flavor packet and adding boiling water to the noodles. Once the noodles are cooked, drain the water and add the flavor packet. Serve with sliced avocado, cucumber, radishes, dill, crushed red pepper, and a drizzle of tahini.
We took our savory miso ramen and pumped it up with some of our favorite green foods like jalapeños, edamame, green onion, and cilantro.
Start by preparing a Right Foods Miso Ramen cup according to package instructions. Then, to cook the veggies, add vegetable broth to a pan with mushrooms, edamame, green onion, and jalapeño, mixing until all broth is absorbed. Combine the ramen cup and veggies in a bowl with a garnish of cilantro and enjoy!
Final Thoughts
Cooking without oil is a breeze with the proper tools and methods. We go over easy ways to cook and bake without oil in our article Easy Tips for Cooking Without Oils. Plus check out more info on how to go oil free and its potential health benefits here.
These 15 oil-free recipes are just the tip of the iceberg; we have so many more recipes on our recipe page, plus the internet is full of recipes and resources for an oil-free diet.
All of Dr. McDougall's Right Foods products are oil-free, vegan, and non-GMO, so you can feel your best while fueling your body. And if you don't feel like cooking one of these recipes, you can always just snack on a noodle or soup cup (or two), no extra ingredients needed.